Overview
Epidemic curve for confirmed and probable cases by date of onset
10th Ebola outbreak, DRC, 2018–2019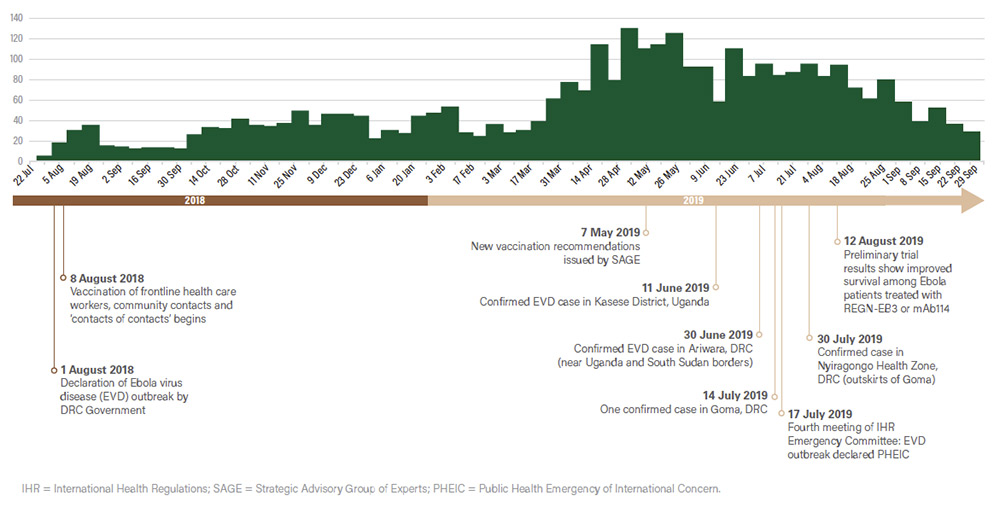 Affected areas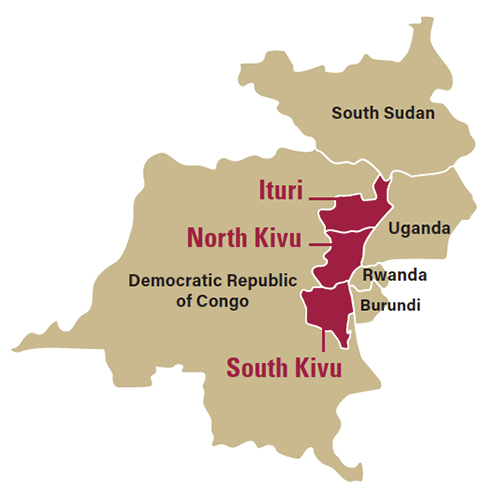 Africa CDC response activities this week
The Regional Collaborating Centres continued to support preparedness in Member States, including sharing information and discussing preparedness plans during the weekly ECHO sessions.
Twenty-four of the 30 new volunteers recruited by Africa CDC have been cleared for deployment. They will be deployed as soon as deployment order is received from the Government of DRC.
Africa CDC volunteers and experts supported tracing of 1,918 contacts and investigation of 1,682 alerts, including active case-finding for 943 suspected cases.
Africa CDC teams made 45 visits to health care facilities and trained 97 health care workers in infection prevention and risk communication. They evaluated 8 health care facilities and accompanied 68 health care workers to ensure compliance with infection prevention measures.
Africa CDC-supported laboratories received and tested 1,503 samples.
Africa CDC is organizing a meeting of health ministers of DRC and the nine neighbouring countries and partners in Goma on 21 October 2019 in collaboration with WHO. The meeting will discuss the framework for cross-border collaboration on preparedness and response to Ebola Virus Disease outbreak.
Security remains a challenge in Lwemba where response activities remained suspended throughout the week.
Update on Preparedness by Member States
Malawi and Zambia Meet on Preparedness and Cross-border Surveillance
From 23 to 25 September 2019, Malawi and Zambia held a meeting of their cross-border disease surveillance teams. The meeting was convened by the East Central and Southern Africa Health Community with support from Africa CDC Southern Africa Regional Collaborating Centre and the International Organization for Migration.
Participants in the meeting acknowledged the need for increased collaboration on cross-border surveillance between countries. They conducted simulation exercises to test their readiness to respond to any EVD outbreak and identify gaps in preparedness. There was orientation on the application of standard precautions in infection prevention and control, as well as demonstrations on the donning and doffing of personal protective equipment and how to use it when handling highly infectious agents.
The participants, including Dr Dan Namarika, Malawi Permanent Secretary of Health, and Dr Kalunga Zulu, District Commissioner for Chipata District, Zambia, visited the Malawi-Zambia border post at Mwami to assess existing cross-border disease control and surveillance measures at the post and discuss crucial improvements. They developed a cross-border committee joint annual work plan 2019/2020 to be implemented by the eight districts in the border area – Mchinji, Kasungu and Mzimba in Malawi, and Chipata, Vubwi, Lundazi, Lumezi and Chipangali in Zambia.