Background
Objectives
Roadmap of the initiative
Background
COVID-19 vaccines offer life-saving protection against severe COVID-19 that has resulted in significant morbidity and mortality. After a year of intense advocacy against the unequal global roll-out of COVID-19 vaccines, with Africa receiving only 7.8 percent of the nine billion vaccine doses manufactured globally, the stage is set to ramp up vaccine delivery on the continent in 2022. This also means the speed and scale of uptake of vaccinations needs to be ramped up to avoid vaccine wastage, bring the pandemic under control and speed economic recovery on the continent. With African youths constituting over 65% of the continent's population, their mobilization and meaningful engagement has the potential to be game-changing in the fight against the COVID-19 pandemic on the continent.
In line with the World Health Organization target to vaccinate 70% of the world's population by end of June 2022, the African Union (AU) through the Africa CDC has taken unprecedented steps to support the AU Member States' COVID-19 vaccination efforts. As of 05th July 2022, over 849 million vaccines have been supplied, of which about 614 million have been administered to the African population. This translates to approximately 72% of the supplied vaccines having been administered, with 22.1% of the total African population (2022 estimates) partially vaccinated and only 19.2% fully vaccinated.
During the AU Assembly of Heads of State and Government (HoSG) Summit, February 2022, the AU COVID-19 Champion, H.E. President Cyril Ramaphosa of South Africa, presented a comprehensive report, which was endorsed, on the pandemic situation in Africa and made key recommendations which were endorsed by the HoSG. The HoSG committed to exercise leadership to advance the vaccination agenda and urge the Africa CDC to ensure greater coordination and partnerships to support Member States to achieve the goal of vaccinating at least 70% of the continent's population by end of June 2022.
Objectives
Roadmap of the initiative
"We have been very loud and clear about the danger and the risk for the continent not getting appropriate access to vaccines, but we need to accelerate our efforts and at least try to vaccinate 70% of the African population by the end of 2022 so that we have a chance of controlling this pandemic."
The African Union COVID-19 Vaccination Bingwa initiative is investing in youth engagement and empowerment, and shared value partnerships. It's all about the principles of comparative advantages; co-creation, co-learning, co-evolving, collective impact and mutual accountability. The youth are taking the front seat in this campaign whose call to action is for not just the youth, but the entire African citizenry to get vaccinated. It's time to #ShootYourShot.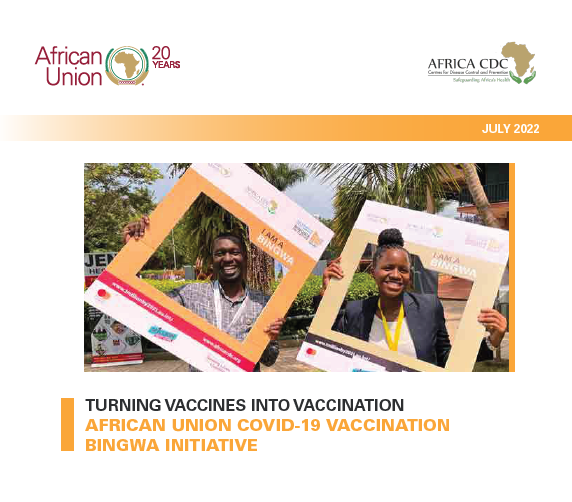 African Union COVID-19 Vaccination Bingwa Initiative