Introduction
Welcome to this blog prepared by the Infection Prevention and Control (IPC) technical working group of the Africa Task Force for Coronavirus (AFTCOR). As we approach the end of 2020, we thought this would be the perfect opportunity to pause, reflect and receive feedback from IPC specialists who have been involved in the response to COVID-19 pandemic across the continent. Huge thanks to those who shared their experience and insights with us. The year 2020 has been unprecedented for many of us and I'm sure everyone will appreciate reading the honest reflections in this blog.
This is the first time we are publishing a journal like this and we hope you enjoy reading the personal perspectives of fellow IPC professionals.
Response update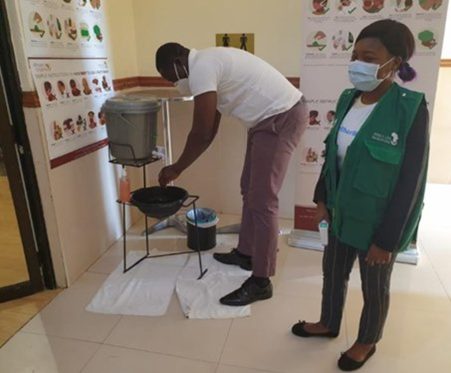 National pictures have been incredibly varied, the pandemic is developing differently in each region, state and district. It is easy to become fixated on our local efforts, but these short descriptions just highlight how differently the pandemic is impacting other areas and how much we can learn from others who are at different stages of their response.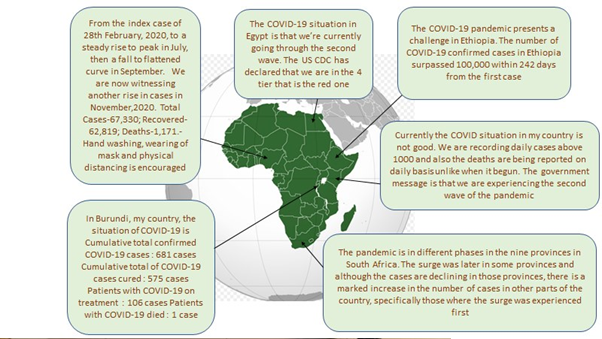 Roles and responsibilities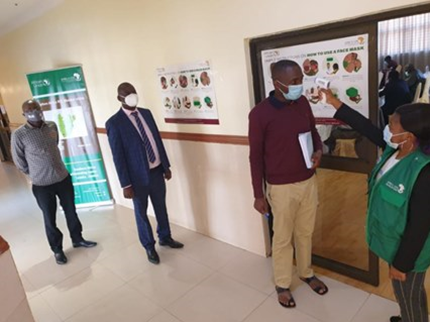 Active surveillance and physical distancing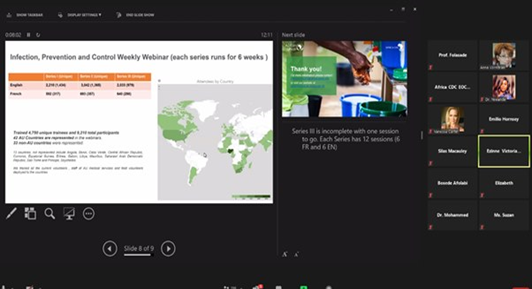 Infection Control Africa Network and Africa CDC webinar on IPC
IPC professionals are playing several roles in response to this pandemic. Doctors, nurses, researchers, engineers, managers, environmental health, and port health officers are all heavily involved; they are leading teams, training others, providing technical advice and reaching out to communities. These they do under intense pressure and higher risk conditions than usual. The scope of activities highlights how essential IPC expertise is for proper functioning of health systems and how critical IPC is to saving lives. Here are some of the reflections shared by members of the IPC community of practice.
"My role was to convert intensive care units into airborne infection isolation rooms and train nurses and doctors working in the COVID-19 isolation units every 14 days."
"I worked actively in surveillance and screening, alongside data management, of arriving passengers at a port of entry. I also conducted IPC training to staff and airport stakeholders."
"I provided COVID-19 IPC training to health workers and traditional healers and coordinate the detection of SARS-COV-2 in purportedly contaminated environments in Addis Ababa."
"I co-coordinate the COVID-19 taskforce; we have a triage system and COVID-19 management guidelines. I conduct IPC training for healthcare workers and staff and IPC management in isolation wards."
"My role has been sensitization of health workers and the community on the preventive measures."
"My role is to conduct research and reporting on COVID-19 patients, teaching doctors, nurses, surface technicians and ambulance drivers on general healthcare and COVID-19 IPC. I teach community health workers how to monitor, research and report suspected COVID-19 cases in the community."
"I attended training in COVID-19 IPC, after which I gave voluntary health talks in worship centres, schools, hospitals, rural communities, and other public places. I also supervise their activities for improvements."
"I am the IPC lead in the COVID-19 task team of the Mediclinic hospitals in South Africa. Now that we are in a different phase of the pandemic, we focus more on surveillance for COVID-19, monitoring infections among healthcare workers and supporting individual hospitals, especially those where there is evidence of nosocomial transmission and an increase in COVID-19 infections among healthcare workers."
Challenges and strengths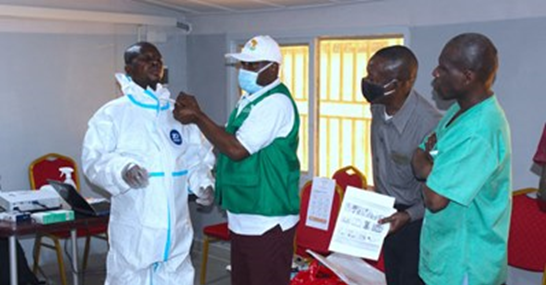 We reflect on the challenges due to the pandemic but also things we have been grateful for. Despite the difficulties reflected, common themes around operational challenges related to the supply of resources like PPE, and combating misinformation, show how much we have in common and how we can support and learn from each other. Many of the respondents share examples of how working together has helped and that is something we can continue to do through societies like the Infection Control Africa Network (ICAN) and using communities of practice like the IPC Telegram group, as this pandemic evolves and in the future.
"My biggest challenge is the human fear and anxiety among healthcare workers before going to work in the COVID-19 isolation unit. The other challenge is how to reduce burnout. I'm grateful that every healthcare worker I trained is healthy and still working with me."
"My biggest challenge is human resource shortage, as the few available staff were made to work long hours in an unsuitable work environment."
"A challenge was the lack of testing for frontline personnel as we all struggle and manage our time and health throughout the period. I am most grateful to God for sparing my life despite the exposures and limitations."
"I faced different challenges, including limited kits and consumables, low budget, resistance from some healthcare facilities, proliferation of misinformation and fake news, time constraints, and weak collaborations among relevant stakeholders."
"I would like to thank the Ethiopian Public Health Institute and Ethiopian Environmental Health Professional Association for the chance given me to conduct a study and training on COVID-19. I am thankful to my colleagues and study participants from various hospitals and COVID 19 treatment centres for their support."
"Some healthcare workers contracted COVID-19 so we reviewed our management and prevention protocols."
"I am thankful that we started the NCDC accredited molecular laboratory for PCR diagnosis of COVID-19."
"My biggest challenge was when the first cases were reported. Most of the citizens, including health workers, did not believe the figures given by government. Being a new disease, we were all gambling with the information and many unanswered questions especially on the burial of the dead, because the dead in this society have to be accorded the best respect and now, they are being buried hurriedly."
"I am grateful for the training of health workers and the continuous learning programmes. Through the virtual training by Africa CDC, I have more understanding of the disease. I am also impressed by the news that the vaccine is on the way."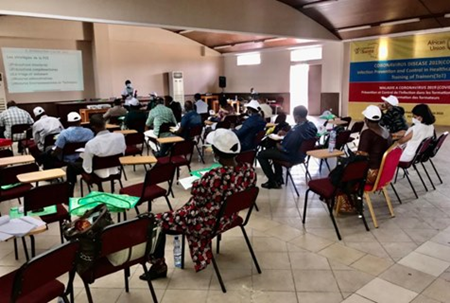 "My biggest challenge is quarantined individuals who still have to work every day to feed their families because there is no food or financial support (no other support than medicine) and the fear among family members that the patient may be taken to isolation or hospitalized."
"As IPC champion I think with COVID-19 people have appreciated the value of handwashing more."
"I am very grateful to God who kept me and who extended his hand to protect my country, we have had very few deaths. And then I congratulate the Minister of Health in my country for the good response strategies against COVID-19. I also recognize the important role and critical support of WHO and other ministry partners."
"We needed funds to equip facilities so they could comply to the IPC policies, e.g. providing bore hole. There is difficulty in accessing water in some rural areas for proper handwashing."
"I gained a broadened understanding of COVID-19 IPC that empowers me to speak in public about COVID-19 IPC."
"The biggest challenge for IPC is how to ensure that hospitals are safe for patients and that we are not only dealing with COVID-19, but with many other multidrug resistant organisms that are detrimental to patients and to the healthcare system, but often overlooked because they are not directly impacting the decision-makers."
"I'm grateful that my family is carried along in the COVID-19 IPC interventions."
"I am grateful that the importance of IPC is being emphasized because of the pandemic and that I work with an extremely courageous, competent and dedicated group of IPC managers. I am also grateful for the opportunity to explore new ways of working from home, attending virtual meetings and training sessions, the number of online resources that became available, and the fact that training and resources are more accessible to everyone to ensure that the correct information is disseminated."
Lessons learned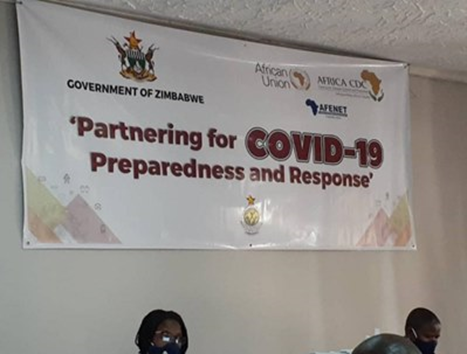 Training in Zimbabwe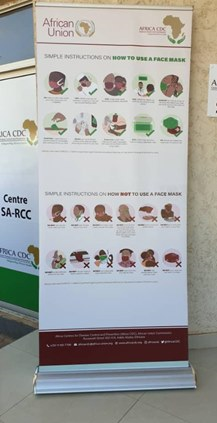 Visual reminders for mask-wearing
We all want to share what we have learned so far during this pandemic and I'm sure you can identify with many of the themes expressed here. A mix of technical knowledge, practical skills, communication with different audiences, and understanding human behaviour are all essential. We will all keep learning as the pandemic progresses and these reflections help us understand more about how this has affected us and our teams both professionally and personally.
"Personally, I have learned the importance of training and re-training to increase knowledge and skills for better performance. The knowledge and skills acquired have enriched my competence and boosted my confidence for service delivery. Information is key to development."
"The lessons I learned at the personal level is that humans fear the unknown. At the hospital level I learned that the engineering is more important than the PPE. At the professional level I learned that reducing working hours reduces burnout of healthcare workers even if it increases our consumption of PPE."
"At my facility I have learned about capacity building on human development and provision of material resources for a conducive work environment. This has shown at the national level on how building a functional health system is imperative to global health security."
"During data collection for our research I have visited hospitals, COVID-19 treatment centres, and public transportation facilities. I have learned about the major barriers to the implementation of preventive measures; information mapping, and the decision-making process of COVID-19 control in Ethiopia."
"Personally, I have learned the importance of being proactive, focussed leadership and management of scarce resources. Our hospital now has organizational commitment to IPC structure to place itself better for the next pandemic."
"We must be prepared all the time with well-equipped response teams. Health workers should be trained to handle all emerging issues."
"IPC is key to managing hospital-acquired infection and should be applied even at home and at the community level."
"Africa must work with their professionals to develop with home-grown solutions."
"The COVID-19 pandemic has demonstrated the vulnerability of human beings. It has demonstrated the weaknesses of health and public structures in terms of IPC. There is a great deal of work to be done for IPC to become effective."
"Nurses, hospitals workers, public leaders and youth should be trained on COVID-19 IPC for their empowerment."
"I have learned to keep fit to be able to reach out and support others."
"All arms of government should be well-informed and trained about COVID-19 IPC, so they can make policies that will positively affect the nation's health."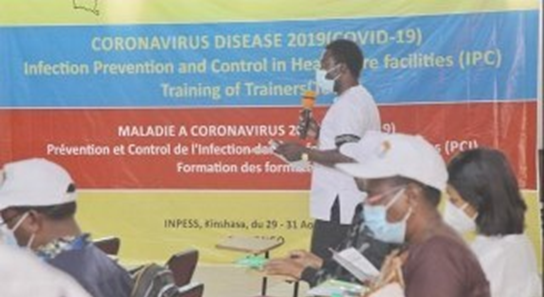 IPC training in the Democratic Republic of Congo
"I have learned that we don't have to be rigid in our decisions, we need to explore new opportunities, think fast and make quick decisions with the information available at that specific moment. The role of IPC is totally underestimated globally, and the pandemic has exposed the risks due to the inadequate IPC programmes. We must work together as teams as we cannot achieve the same results if we work in silos. An example is the positive attitude and energy of South Africans which was displayed in the Jerusalema song and dance, which was adopted and is embraced worldwide by healthcare workers."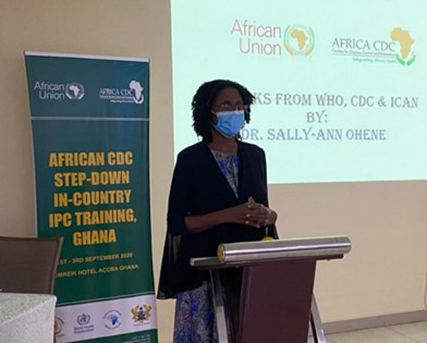 IPC training in Ghana
THANK YOU!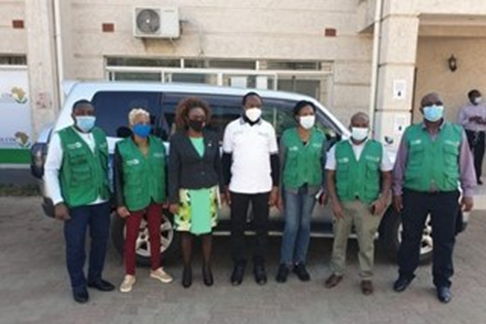 Thanks to everyone who shared their reflections for this blog. We hope you enjoyed reading them. The COVID-19 pandemic is affecting all countries in different ways and at different times, however, the accounts highlighted show that we are not alone, other IPC practitioners also experience similar challenges or will experience them after now, and we can all support each other through this pandemic.
We have been inspired by the enthusiasm shown by everyone who has attended the IPC webinars, engaged on the IPC Telegram community of practice, been involved in country level training courses and dedicated themselves to the COVID-19 response in 2020. Together we are kicking COVID-19 out of Africa!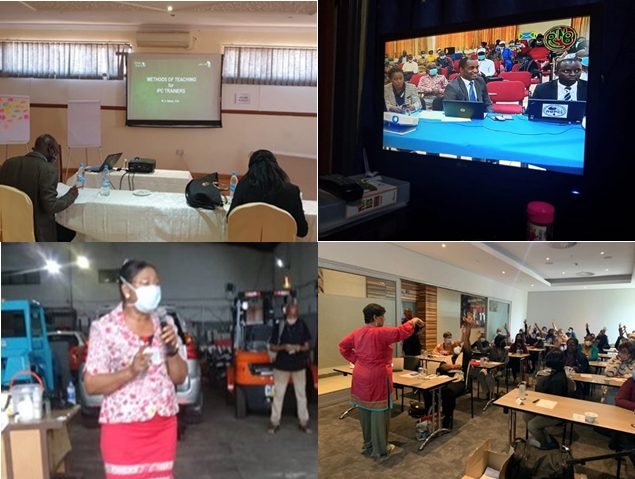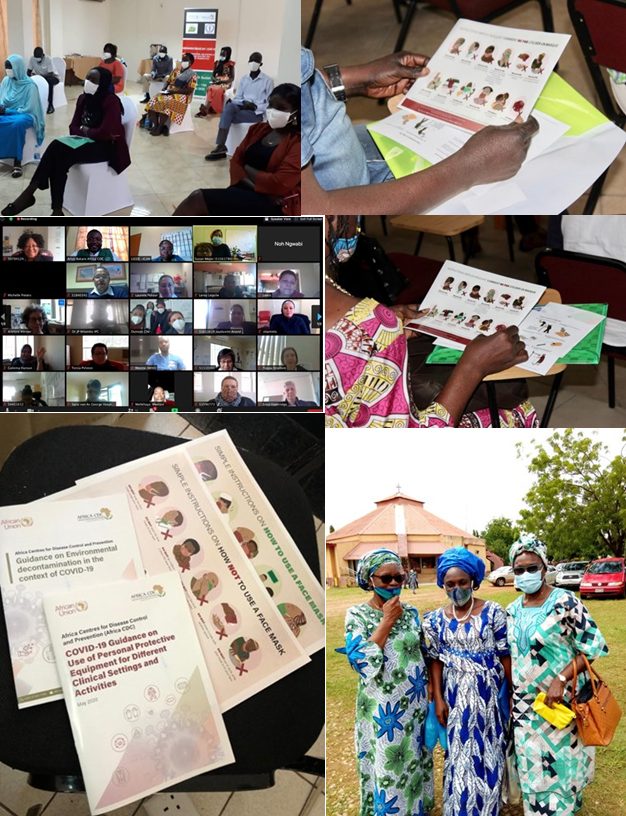 Acknowledgements
Sincere thanks to all the co-authors of this article:
Esi Idowu Agada, IPC Registered Nurse.
Charles John Elikwu, MBBS (Ibadan), MSc (Lagos), FMCPath, Associate Professor/Honorary Consultant & Head of Department, Medical Microbiology & Chairman, IPC Committee
Dr Pascaline Menedore Nemyimana, Bujumbura , Burundi
Sisay Derso Mengesha (M.Sc.), Researcher, Ethiopian Public Health Institute
Dr Rasha Mosbah, Infection control unit, Zagazig University hospitals
Mrs. Fanny Ogwu, Assistant Director of Nursing Services, Federal Ministry of Health, Port Health Services, Ikeja-Lagos, Nigeria
Julius Fentra Sakong, Clinical Officer, Kenya
Briette du Toit, IPC lead, COVID-19 Task Team, Mediclinic Southern Africa hospitals