Report on a Joint Meeting of Africa Ministers of Health and Finance on the Progress and Status in Controlling the COVID-19 Pandemic and its Economic Shocks
Introduction:
The teleconference joint meeting of Africa Ministers of Health and Finance on the progress and status in controlling the COVID-19 pandemic and economic shocks was held on 3 June 2020.
Attendance:
The following participated in the teleconference: Honourable Ministers of Finance and Health from African Union Member States; H.E. Mr. Mousa Faki Mahamat, Chairperson of the AUC; H.E. Mrs. Amira Elfadil, Commissioner for Social Affairs; H.E. Prof. Victor Harrison, Commissioner for Economic Affairs; H.E. Ambassador Albert Muchanga, Commissioner for Trade and Industry; and the AU Special Envoys: Ms. Ngozi Okonjo-Iweala, Dr Donald Kaberuka, Mr Trevor Manuel, and Mr. Abderrahmane Benkhalfa, and Mr. Strive Masiyiwa.
The following institutions were also represented: Under Secretary General of the United Nations and Executive Secretary of UNECA, Dr. Vera Songwe, and the President and Chairman of the Board of Directors of the Afreximbank, Dr. Benedict Okey Oramah.
Opening of the Meeting:
The Teleconference meeting was moderated by H.E Mrs. Amira Elfadil, Commissioner for Social Affairs, AUC. In her opening remarks, she thanked the Honourable Ministers and the special envoys to the African Union for the work done regarding responding to COVID-19 as well as the economic shocks that African economies are facing due to COVID-19. She stressed that since the onset of COVID-19, African Union through Africa CDC has supported member States in the COVID-19 response.  […]
Download Files
| File | Action |
| --- | --- |
| Report Joint Meeting of Africa Ministers of Health and Finance – ARA | Download |
| Report Joint Meeting of Africa Ministers of Health and Finance – ENG | Download |
| Report Joint Meeting of Africa Ministers of Health and Finance – FRE | Download |
| Report Joint Meeting of Africa Ministers of Health and Finance – POR | Download |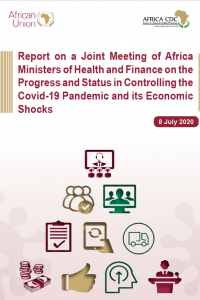 Date
8 July 2020
Theme
Emergency Response and Preparedness
Region
Central Africa
,
Eastern Africa
,
Northern Africa
,
Southern Africa
,
Western Africa
Tags
Africa COVID-19
,
COVID-19
,
COVID-19 Funding
,
COVID-19 Management
,
COVID-19 data
,
COVID-19 impact
,
covid-19 partnerships