Providing a Legal Framework for a National Public Health Institute (NPHI)
National Public Health Institutes (NPHIs) are science-based governmental institutions or organizations that promote health by coordinating public health functions and programs to prevent, detect, and respond to public health threats. The importance of NPHIs, their core functions and attributes, and steps for consideration in creating NPHIs are described in the Framework for Development of National Public Health Institutes in Africa, published in 2018 by the Africa Centres for Disease Control.
The Africa CDC is working to establish a new Public Health Order for Africa, in which Member States are empowered to strengthen and protect the public health of their peoples. NPHIs provide the platform to help countries achieve their public health goals.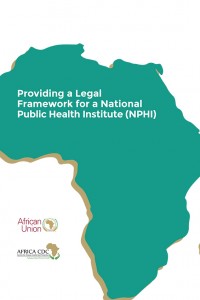 Date
9 September 2019