Protocol for Enhanced Severe Acute Respiratory Illness and Influenza-Like Illness Surveillance for COVID-19 in Africa
The majority of Member States have sentinel surveillance systems for influenza-like illness (ILI) and SARI and they take part in the Global Influenza Surveillance and Response System (GISRS). They can leverage these systems for COVID-19 because they investigate patients with similar clinical presentation to COVID-19.
To support the process of moving towards increased testing of SARI cases, and to better understand the presence of undetected cases among SARI/ILI patients, Africa CDC is supporting Member States to integrate testing for SARS-CoV2 virus into existing national SARI/ILI sentinel surveillance system.
Download Files
| File | Action |
| --- | --- |
| Protocol for Enhanced SARI and ILI Surveillance for COVID-19 in Africa (Portuguese).pdf | Download |
| Protocol for Enhanced SARI and ILI Surveillance for COVID-19 in Africa (French).pdf | Download |
| Protocol for Enhanced SARI and ILI Surveillance for COVID-19 in Africa (English).pdf | Download |
| Protocol for Enhanced SARI and ILI Surveillance for COVID-19 in Africa (Arabic).pdf | Download |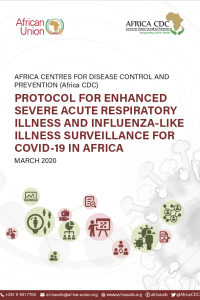 Date
9 April 2020
Theme
Emergency Response and Preparedness
Region
Central Africa
,
Eastern Africa
,
Northern Africa
,
Southern Africa
,
Western Africa
Tags
Africa COVID-19
,
COVID-19 transmission
,
Disease Pandemic
,
community transmission
,
influenza-like illness
,
sentinel surveillance
,
severe acute respiratory infection