PERC: Biweekly Report (14 – 27 October 2020)
International media and organizations continue to spotlight Africa as an example of a successful COVID-19 response, particularly as Europe and North America enter large second and third waves. However, the secondary impacts of public health and social measures (PHSMs) have been significant: across the continent, health systems are becoming increasingly overburdened, and food prices and insecurity are rising; public mistrust of government handing of the virus and disbursement of aid is fueling protests. In some African Union (AU) member states, cases have begun to rise again, signaling that a second wave is starting. Strengthening public trust in government and expanding rapid testing and contact tracing will be necessary to control the spread in the coming months.
Disease Situation
• For the continent as a whole, new cases and deaths reported between 14-27 October remained relatively unchanged compared to the previous two weeks (30 September – 13 October). The test per case ratio remains below the recommended range in two-thirds of AU Member States surveyed, indicating many cases are still going undetected and underscoring the importance of strict adherence to PHSMs, particularly when testing is limited.
• New cases are concentrated in the Northern Region, and in parts of the Southern and Eastern Regions. Morocco sustained its largest single day increase in new cases and surpassed South Africa to report the largest number of new cases from 14-27 October. Cases from Morocco, Libya, Tunisia and Algeria comprised more than half of total new cases.
• Hospitals in Libya are overwhelmed by rising cases, as more than 50% of hospitals are currently shuttered due to existing conflict. Health officials report that contact tracing is difficult because of the stigma associated with the virus, highlighting the need for expanded community outreach to communicate accurate, helpful information to dispel misinformation about COVID-19.
• Following loosening of PHSMs in early October, new cases in Kenya are approaching the 7-day moving average experienced during its highest peak in August. There are reports of hospitals being overwhelmed and COVID-19 outbreaks among health care workers, as well as a health care worker strike at Nairobi's largest hospital, underscoring the need for more investment in the safety and health of frontline workers.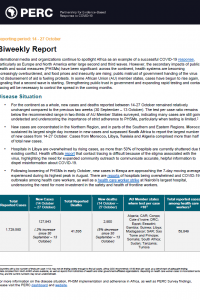 Date
29 October 2020
Theme
Emergency Response and Preparedness
Region
Central Africa
,
Eastern Africa
,
Northern Africa
,
Southern Africa
,
Western Africa
Tags
Africa COVID-19
,
COVID-19 Management
,
COVID-19 guidance
,
COVID-19 impact
,
Combatting COVID-19
,
Coronavirus/COVID-19
,
PERC
,
covid-19 partnerships