Outbreak Brief 33: COVID-19 Pandemic – 1 September 2020
Outbreak Update: Since the last brief (25 August 2020), 1,776,122 new confirmed1 coronavirus
disease 2019 (COVID-19) cases and 37,982 new deaths have been reported globally. To date, a
total of 25,126,084 COVID-19 cases and 844,601 (case fatality rate (CFR): 3.4%) related deaths
have been reported from 215 countries and territories. The distribution of cumulative cases
(proportion of global cases) from the World Health Organization (WHO) reporting regions
(excluding Africa) are as follows: Eastern Mediterranean Region 1,716,157 (7%), European
Region 4,232,301 (17%), Region of the Americas 13,268,634 (53%), South-East Asia Region
4,157,798 (17%) and Western Pacific Region 493,707 (2%). For more detailed information on
cases and deaths being reported outside of Africa, refer to the WHO daily situation reports.2
As of 9am East African Time (EAT) 1 September 2020, a total of 1,252,552 COVID-19 cases and
29,833 deaths (CFR: 2.4%) have been reported in 55 African countries. This is 5% of all cases
reported globally. Since the last brief, 57,255 new COVID-19 cases have been reported, which is
a 5% increase overall and a 15% decrease in the number of new cases reported compared to
the 25 August 2020 brief. The proportion of new COVID-19 cases reported by region is as
follows: Southern region 35% (20,146), Northern region 29% (16,691), Eastern region 24%
(13,911), Western region 9% 4,923), and Central region 3% (1,600).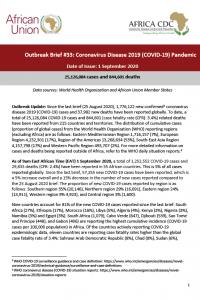 Date
1 September 2020
Theme
Emergency Response and Preparedness
Region
Central Africa
,
Eastern Africa
,
Northern Africa
,
Southern Africa
,
Western Africa
Tags
Africa COVID-19
,
COVID-19 Challenge
,
COVID-19 Environmental
,
COVID-19 social measures
,
COVID19 Response
,
Combatting COVID-19
,
Outbreak Response