Outbreak Brief 21: COVID-19 Pandemic – 9 June 2020
Outbreak Update: Since the last brief (2 June 2020), 874,117 new confirmed[1] coronavirus disease 2019 (COVID-19) cases and 29,728 new deaths have been reported globally. To date, a total of 6,938,131 COVID-19 cases and 401,019 (CFR: 5.8%) related deaths have been reported worldwide. Worldwide, a total of 215 countries and territories have reported COVID-19 cases. No new country or territory is reporting cases or deaths for the first time this week. The distribution of cumulative cases (proportion of global cases %) from the WHO reporting regions (excluding Africa) are as follows: Eastern Mediterranean Region 585,159 (8%), European Region 2,286,560 (33%), Region of the Americas 3,311,387 (48%), South-East Asia Region 364,196 (5%) and Western Pacific Region 192,016 (3%). For more detailed information on cases and deaths being reported outside of Africa, refer to the WHO daily situation reports[2].
As of 9 am EAT 9 June 2020, a total of 196,254 COVID-19 cases and 5,341 (CFR: 2.7%) deaths have been reported in 54 African countries. This is about 2.8% of all cases reported globally. Since the last brief (2 June 2020), 43,812 new COVID-19 cases have been reported, which is a 29% increase in new cases reported compared to what was reported in the previous week (26 May to 2 June 2020). The proportion of new COVID-19 cases reported by region is as follows: Southern region 39% (17,069), Northern region 25% (10,771), Western region 15% (6,755), Eastern region 12% (5,043), and Central region 9% (4,174). Five countries account for 72% of the new COVID-19 cases reported since the last brief: Cameroon (4%), Egypt (21%), Ghana (4%), Nigeria (5%), and South Africa (38%). When population is taken into consideration, Djibouti (433), Sao Tome and Principe (235), Gabon (146), Cabo Verde (102) and Equatorial Guinea (93), are reporting the most cumulative COVID-19 cases per 100,000 population within the continent. Seven countries[3] are reporting case fatality rates comparable to or higher than the global case fatality rate of 5.8%. See Table 1 for the full list of countries in Africa reporting cases, deaths, and COVID-19 recoveries in addition to the epidemic phase in each country. Africa CDC is working with all affected countries and is mobilizing laboratory, surveillance, and other response support where requested.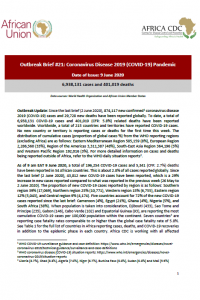 Date
9 June 2020
Theme
Emergency Response and Preparedness
Region
Central Africa
,
Eastern Africa
,
Northern Africa
,
Southern Africa
,
Western Africa
Tags
Africa COVID-19
,
COVID-19 Africa
,
COVID-19 guidance
,
COVID-19 response
,
Combatting COVID-19
,
Coronavirus/COVID-19
,
Outbreak Response