Outbreak Brief 17: COVID-19 Pandemic – 12 May 2020
Outbreak Update: Since the last brief (05 May 2020), 570,912 new confirmed1 coronavirus disease 2019 (COVID-19) cases and 39,339 new deaths have been reported globally. To date, a total of 4,009,315 COVID-19 cases and 278,926 (CFR: 7%) related deaths have been reported worldwide. Worldwide, a total of 215 countries and territories have reported COVID-19 cases and no new country or territory has reported cases or deaths this week. The distribution of cumulative cases (proportion of global cases %) from the WHO reporting regions (excluding Africa) are as follows: Eastern Mediterranean Region 244,923 (6%), European Region 1,731,606 (43%), Region of the Americas 1,702,451 (42%), South-East Asia Region 100,881 (3%) and Western Pacific Region 161,622 (4%). For more detailed information on cases and deaths being reported outside of Africa, refer to the WHO daily situation reports.
As of 9 am EAT 12 May 2020, a total of 66,373 COVID-19 cases and 2,336 (CFR: 4%) deaths have been reported in 53 African countries. This is about 2% of all cases reported globally.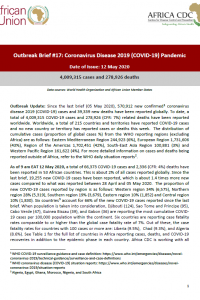 Date
12 May 2020
Theme
Emergency Response and Preparedness
Region
Central Africa
,
Eastern Africa
,
Northern Africa
,
Southern Africa
,
Western Africa
Tags
Africa COVID-19
,
COVID-19
,
COVID-19 Africa
,
COVID-19 guidance
,
COVID-19 impact
,
COVID-19 preparedness
,
COVID-19 response
,
Combatting COVID-19