Outbreak Brief 16: COVID-19 Pandemic – 5 May 2020
Outbreak Update: Since the last brief (28 April 2020), 558,891 new confirmed[1] coronavirus disease 2019 (COVID-19) cases and 40,877 new deaths have been reported globally. This is a 19% increase in cases reported between 28 April – 5 May 2020 compared to a 24% increase in cases reported between 21-28 April 2020. To date, a total of 3,438,403 COVID-19 cases and 239,587 (CFR: 6.9%) related deaths have been reported worldwide. This week two new countries[2] including one from Africa, are reporting cases, and two new countries are reporting deaths[3] for the first time. Worldwide, a total of 215 countries and territories have reported COVID-19 cases. The distribution of cumulative cases (proportion of global cases %) from the WHO reporting regions (excluding Africa) are as follows: Eastern Mediterranean Region 191,423 (6%), European Region 1,543,875 (45%), Region of the Americas 1,433,756 (42%), South-East Asia Region 67,673 (2%) and Western Pacific Region 153,485 (4%). For more detailed information on cases and deaths being reported outside of Africa, refer to the WHO daily situation reports[4].
As of 9 am EAT 05 May 2020, a total of 47,118 COVID-19 cases and 1,843 (CFR: 4%) deaths have been reported in 53 African countries. Since the last brief, the number of COVID-19 cases has increased by 42% (13,845 cases).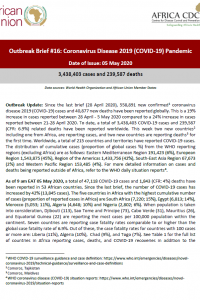 Date
5 May 2020
Theme
Emergency Response and Preparedness
Region
Central Africa
,
Eastern Africa
,
Northern Africa
,
Southern Africa
,
Western Africa
Tags
Africa COVID-19
,
COVID-19
,
COVID-19 Africa
,
COVID-19 guidance
,
COVID-19 pandemic
,
COVID-19 preparedness
,
COVID-19 response
,
COVID-19 transmission
,
COVID19 Testing
,
Contact Tracing
,
Coronavirus/COVID-19
,
Disease Pandemic