Multisystem Inflammatory Syndrome in children and adolescents temporally related to COVID-19
More than 5 million confirmed cases of coronavirus disease 2019 (COVID-19), including more than 320,000 deaths, have been reported globally as of 22 May 2020. Similarly, close 100,000 confirmed cases with over 3,000 deaths have been reported from Africa. Children aged 0–14 years constitute only 2.1% of confirmed cases.
Suspected pediatric clinical cases compatible with a multi-system inflammatory syndrome associated with COVID-19 have been reported in children and adolescents in Europe and North America. Based on initial laboratory findings, this syndrome is likely related to COVID-19. The syndrome has features which overlap with Kawasaki Disease and Toxic Shock Syndrome. So far, close to 350 cases of the syndrome have been reported globally with five fatalities.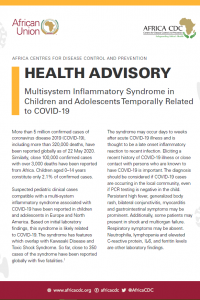 Date
26 May 2020
Theme
Emergency Response and Preparedness
Region
Central Africa
,
Eastern Africa
,
Northern Africa
,
Southern Africa
,
Western Africa
Tags
Africa COVID-19
,
COVID-19 Surveillance
,
COVID-19 impact
,
COVID-19 pandemic
,
COVID-19 response
,
Combatting COVID-19
,
Multisystem Inflammatory Syndrome