Monitoring and Evaluation Framework for the Partnership to Accelerate COVID-19 Testing
Introduction: The Partnership to Accelerate COVID-19 Testing (PACT) initiative is a multi-pronged activity to increase the capacity of African Union Member States to Test, Trace, and Treat individuals with COVID-19. Implemented by the Africa Centres for Disease Control and Prevention (Africa CDC), it aims to support, in Africa, (a) conduct of 10 million COVID-19 tests; (b) deployment of one million community health workers (CHWs) to assist in tracing contacts of cases, and (c) training of 100,000 healthcare workers to boost care and treatment of COVID-19 patients. Africa CDC has established a platform through which Member States can find and procure their laboratory diagnostics and medical equipment for the COVID-19 response.
This document provides a framework for monitoring and evaluating PACT implementation and decision-making at the continental level.
Africa CDC will use all possible mechanisms through its Regional Collaborating Centres (RCCs), the Regional Economic Communities (RECs), other partners such as the World Health Organization (WHO) and the Member States to collect all required information.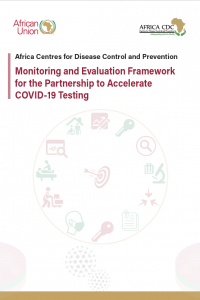 Date
13 August 2020
Theme
Emergency Response and Preparedness
Region
Central Africa
,
Eastern Africa
,
Northern Africa
,
Southern Africa
,
Western Africa
Tags
COVID-19 Environmental
,
COVID-19 Management
,
COVID-19 guidance
,
COVID-19 impact
,
COVID19 Testing
,
Coronavirus/COVID-19
,
Testing