Interim Guidance on the Use of Rapid Antibody Tests for COVID-19 Response
Background
The speed of developing diagnostics for SARS-CoV-2, the causative agent of coronavirus disease 2019 (COVID-19), has been quite remarkable. Diagnostics have focused on nucleic acid amplification testing (NAAT) to identify infected individuals in acute-phase disease for timely implementation of mitigation strategies and case management. More and more immunodiagnostics, mostly rapid diagnostic tests, are being made available as an alternative to NAATs. This type of test can be used out-of-laboratory conditions at large scale.
The United States Federal Drug Agency (US FDA), and other national regulatory agencies, have granted the Emergency Use Authorization (EUA) for many of these tests; most are also CE-IVD marked. However, one major hurdle to selecting specific assays for use is obtaining the validation data needed to assess the quality or performance of each test. Current EUA review procedures do not include any independent assessment of test performance and therefore such authorizations alone do not confirm diagnostic accuracy. Additionally, many rapid antibody-based assays are being developed and sold without any independent evaluation, validation, or verification.
In addition to test quality and performance, the availability of diagnostics is another major hurdle. COVID-19 is a global problem and the demand for all assays and associated laboratory requirements is immense. Many molecular tests require laboratory infrastructure and are difficult to implement at lower levels of the health system and some tests are in short supply requiring alternative products to be used. This makes validation of the available assays, even more important.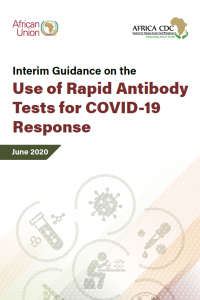 Date
16 June 2020
Theme
Emergency Response and Preparedness
Region
Central Africa
,
Eastern Africa
,
Northern Africa
,
Southern Africa
,
Western Africa
Tags
Africa COVID-19
,
Antibody
,
COVID-19 guidance
,
COVID-19 response
,
COVID19 Antibody
,
COVID19 Testing
,
COVID19 guidance
,
Outbreak Response
,
Test
,
Testing