Africa CDC COVID-19 Social Media Support Kit
This kit provides a messaging framework and accompanying social media share graphics for African Union (AU) Member States and partner organizations of the Africa CDC.
These campaign support materials have been developed and shared to bolster national initiatives and outreach campaigns in AU Member States. The message will continue to evolve as the COVID-19 pandemic progresses and as understanding of optimal responses develop further.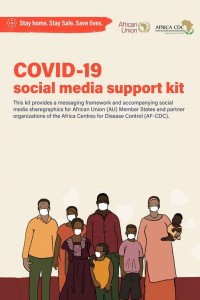 Date
9 October 2020
Theme
Emergency Response and Preparedness
Region
Central Africa
,
Eastern Africa
,
Northern Africa
,
Southern Africa
,
Western Africa
Country
Algeria
,
Angola
,
Benin
,
Botswana
,
Burkina Faso
,
Burundi
,
Cabo Verde
,
Cameroon
,
Central African Republic (CAR)
,
Chad
,
Comoros
,
Congo, Democratic Republic of the
,
Congo, Republic of the
,
Cote d'Ivoire
,
Djibouti
,
Egypt
,
Equatorial Guinea
,
Eritrea
,
Eswatini (formerly Swaziland)
,
Ethiopia
,
Gabon
,
Gambia
,
Ghana
,
Guinea
,
Guinea-Bissau
,
Kenya
,
Lesotho
,
Liberia
,
Libya
,
Madagascar
,
Malawi
,
Mali
,
Mauritania
,
Mauritius
,
Morocco
,
Mozambique
,
Namibia
,
Niger
,
Nigeria
,
Rwanda
,
Sao Tome and Principe
,
Senegal
,
Seychelles
,
Sierra Leone
,
Somalia
,
South Africa
,
South Sudan
,
Sudan
,
Tanzania
,
Togo
,
Tunisia
,
Uganda
,
Zambia
,
Zimbabwe
Tags
Africa Mask Week
,
national outreach campaigns
,
shargraphics
,
social media
,
toolkit