Africa CDC Consortium for COVID-19 Vaccine Clinical Trials (CONCVACT)
Context: The Africa Joint Continental Strategy for COVID-19 is underpinned by the need to limit transmission, prevent deaths and reduce associated harms. Participation by African nations in clinical trials is an essential step to ensure that sufficient data is generated on the safety and efficacy of the most promising vaccine candidates among the region's populations.
While current COVID-19 clinical trial activity on the continent is limited, Africa has substantial experience and capabilities to conduct clinical trials for preventative vaccines across a range of diseases, and many organizations on the continent are working tirelessly to help prepare additional trials on potential COVID-19 vaccines. As the number of candidate vaccines in the development pipeline continues to increase, it will be important for organizations responsible for managing clinical trials in the region to partner with vaccine developers to identify potential and appropriate trial locations, provide support to remove any critical obstacles impeding commencement and progress of trials, and to provide oversight ensuring that trials are conducted safely and ethically.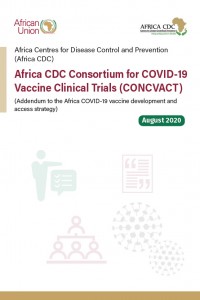 Date
30 September 2020
Theme
Emergency Response and Preparedness
Region
Central Africa
,
Eastern Africa
,
Northern Africa
,
Southern Africa
,
Western Africa
Tags
Africa COVID-19
,
COVID-19 Management
,
COVID-19 guidance
,
COVID-19 vaccine
,
COVID19 Vaccine
,
Combatting COVID-19
,
Coronavirus/COVID-19