Overview
Epidemic curve for confirmed and probable cases by date of onset
10th Ebola outbreak, DRC, 2018–2019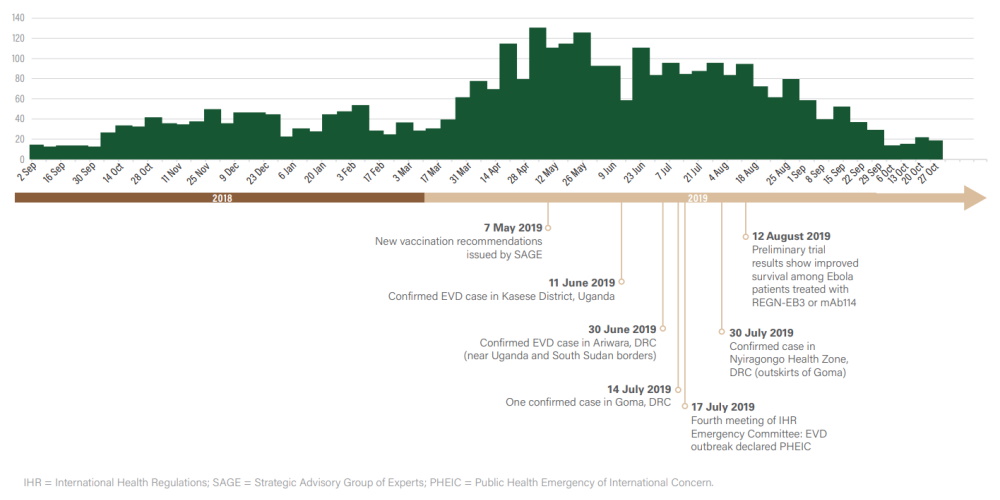 Affected areas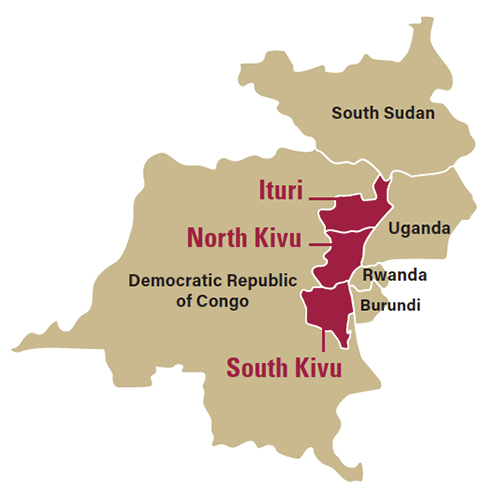 Africa CDC response activities this week
The Regional Collaborating Centres continued to support preparedness in Member States, including sharing information and discussing preparedness plans during the weekly ECHO sessions.
Africa CDC volunteers and experts supported tracing of 295 contacts and investigation of 5753 alerts, including active case-finding for 2736 suspected cases.
Africa CDC teams made 149 visits to health care facilities and trained 133 health care workers in infection prevention and risk communication. They evaluated 4 health care facilities and accompanied 212 health care workers to ensure compliance with infection prevention measures.
Africa CDC-supported laboratories received 2092 samples and tested 2084 samples.
The ministerial meeting on cross-border collaboration on EVD was held in Goma, DRC. Representatives of the DRC and its nine neighbouring countries endorsed the framework for collaboration on preparedness and response to EVD with an extension of the framework to cover other disease outbreaks and public health emergencies.
Update from Member States
In Malawi, there was one alert of a suspected case. That alert was dismissed; it proved to be a mistaken case of a chronically sick person who had no travel history to any Ebola affected area.
Zimbabwe conducted a training on integrated disease surveillance and response for 120 trainees. It conducted a vulnerability and risk analysis and mapping with support from WHO and is finalizing its national action plan for health security.
South Africa National Institute of Communicable Diseases has identified a principal investigator and is revising protocols for Ebola vaccine use in South Africa. It will hold a high-level discussion-based exercise to test and identify gaps in EVD standard operating procedures.