Overview
Epidemic curve for confirmed and probable cases by date of onset
10th Ebola outbreak, DRC, 2018–2019
Affected areas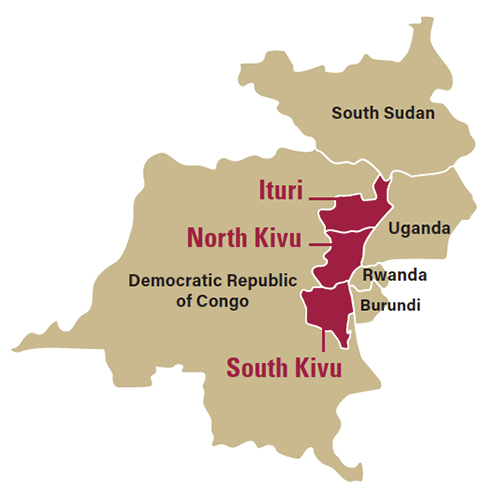 Africa CDC response activities this week
The Regional Collaborating Centres continued to support preparedness in Member States, including activating Emergency Operation Centres, setting up isolation centres, developing monitoring tools, and conducting forums to review data and plans. They are reviewing preparedness and response scorecards and mapping partners.
A team of African Union and Africa CDC staff is visiting Goma and Kinshasa to recruit more volunteers for deployment to EVD-affected areas in the DRC.
Africa CDC volunteers and experts supported tracing of 1,920 contacts and investigation of 559 alerts, including active case-finding for 303 suspected cases.
Africa CDC teams made 67 visits to health care facilities, evaluated 4 health care facilities, and trained 120 health care workers in infection prevention and risk communication. They accompanied 149 health care workers.
Africa CDC-supported laboratories received and tested 1,223 samples.
The joint team of African Union, Africa CDC and UNOAU concluded its assessment of security needs for EVD response in the DRC.
Update from Member States
Botswana has established a technical working group to strengthen rapid response, laboratory testing, advocacy, drug distribution, infection prevention and control, points of entry, and surveillance. The group has developed case reporting tools and event-based surveillance, and has updated its EVD response plan. The team is working with the National Institute of Communicable Diseases of South Africa for testing specimens. The group has also met with partners. 
Kingdom of eSwatini has established a rapid response team and has signed a memorandum of understanding with the National Institute of Communicable Diseases of South Africa to send samples to South Africa for testing with support from WHO. They have procured thermal scanners for surveillance at points of entry and identified a clinic as a potential isolation facility. 
Namibia has enhanced surveillance through its existing Integrated Disease Surveillance and Response System. It is conducting education about EVD at the community level and has procured thermal scanners for screening at points of entry.
South Africa has updated its EVD standard operating procedures to cover various core capacity areas, and define roles and responsibilities for response. It is planning meetings to discuss how to get EVD vaccines to South Africa. 
Zimbabwe has established rapid response teams from the national to facility level using an active alert system, through support from WHO. It is relying on the National Institute of Communicable Diseases in South Africa for testing of samples. 
Key challenges to EVD response in the DRC

Insecurity
In the past year there have been:
176 attacks on health facilities
51 injuries of personnel
5 fatalities (due to attacks)

Community mistrust and resistance

Shortage of responders and medical supplies
What more can Africa CDC do?
Deploy more experts to support response and preparedness in the DRC and neighbouring countries.
Provide more medical and diagnostic equipment, including mobile laboratories and personal protective equipment.
Strengthen public health emergency operations centres in the DRC and neighbouring countries.
Support training of more experts and volunteer community workers in the DRC and other countries in Africa.
Strengthen public awareness and social mobilization for the prevention and control of EVD in Africa.