Overview
Epidemic curve for confirmed and probable cases by date of onset
10th Ebola outbreak, DRC, 2018–2019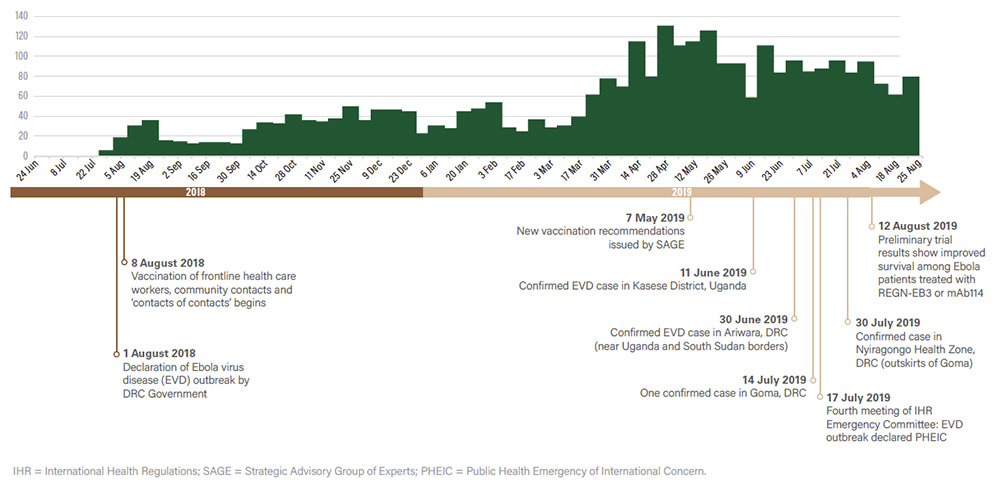 Affected areas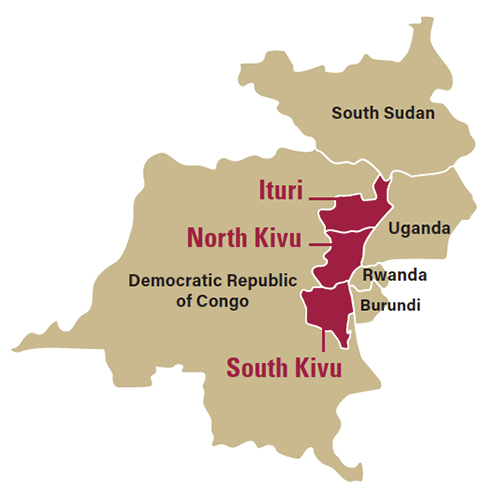 Africa CDC response activities this week
The Regional Collaborating Centres continued to support preparedness activities by Member States, including the activation of Emergency Operations Centres, setting up of isolation centres, development of monitoring, evaluation and reporting tools, and regular forums to provide updates and discuss plans.
Africa CDC volunteers and experts supported contact tracing of 2,934 contacts and investigation of 619 alerts, including active case finding for 375 suspected cases.
Africa CDC teams made 53 visits to health care facilities, evaluated 4 healthcare facilities, and trained 127 healthcare workers in infection prevention and risk communication. They accompanied 109 healthcare workers.
Installed a new EVD laboratory in Bukavu, South Kivu, and trained local staff to operate the laboratory.
A joint team of African Union, Africa CDC, and UNOAU conducted security assessment in the DRC to identify additional security support needs for EVD outbreak response.
Africa CDC response to date
Briefed the African Union Peace and Security Council.
Briefed the Permanent Representative Committee.
Africa CDC Emergency Operation Centre activated to its highest level.
AUC Task Force on Ebola Outbreak reactivated.
Expanded response support to the DRC and at-risk neighbouring countries.
Deployed additional experts to support response in the DRC and neighbouring countries.
41 public health experts deployed to support response:

17 epidemiologists
8 infection prevention and control experts
4 laboratory scientists
4 central support team members
3 communication experts
2 national coordination team members
1 data manager

Trained more than 800 local healthcare workers and community volunteers in disease surveillance, laboratory diagnosis, risk communication and infection prevention and control.
Supplied six GeneXpert machines and more than 3000 cartridges, and supporting laboratory diagnostic services in six health zones, of which four are fully run by Africa CDC teams.
Supported surveillance, including cross-border surveillance, and investigation of alerts through contact tracing.
Supported infection prevention and control and risk communication. Supplied personal protection equipment to 13 health centres and hospitals.
Key challenges to EVD response in the DRC

Insecurity
In the past year there have been:
176 attacks on health facilities
51 injuries of personnel
5 fatalities (due to attacks)

Community mistrust and resistance

Shortage of responders and medical supplies
What more can Africa CDC do?
Deploy more experts to support response and preparedness in the DRC and neighbouring countries.
Provide more medical and diagnostic equipment, including mobile laboratories and personal protective equipment.
Strengthen public health emergency operations centres in the DRC and neighbouring countries.
Support training of more experts and volunteer community workers in the DRC and other countries in Africa.
Strengthen public awareness and social mobilization for the prevention and control of EVD in Africa.