Overview
Epidemic curve for confirmed and probable cases by date of onset
10th Ebola outbreak, DRC, 2018–2019
Affected areas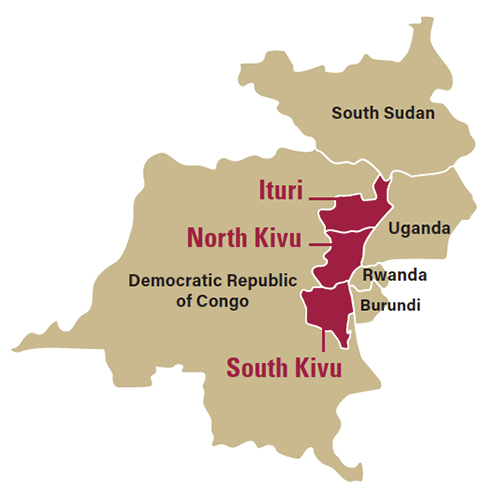 Africa CDC response activities this week
The Regional Collaborating Centres continued to support preparedness in Member States, including sharing information and discussing preparedness plans during the weekly ECHO sessions.
Africa CDC volunteers and experts supported tracing of 3389 contacts and investigation of 1445 alerts, including active case-finding for 1038 suspected cases.
Africa CDC teams made 62 visits to health care facilities and trained 108 health care workers in infection prevention and risk communication. They evaluated 16 health care facilities and accompanied 2150 health care workers to ensure compliance with infection prevention measures.
Africa CDC-supported laboratories in Butembo, Bunia, Komanda, Bukavu, Mambasa, and Goma received and tested 1749 samples.
Response activities were suspended during the week in Beni due to insecurity caused by clashes between government forces and opposition groups.
Stories of hope from Ebola virus disease outbreak response
Early management of EVD saves lives in DRC
Containing the 10th Ebola virus disease outbreak in the DRC has been a great challenge due to the dynamics of the main hotspots of the outbreak. There are security challenges and mass cross-border migration because some of the affected communities are located very close to the borders between the DRC and other countries such as Rwanda, South Sudan and Uganda and there is often. As of 24 November 2019, a total of 3185 cases have been confirmed and 2199 of these cases have died. However, some 1077 cases have been rescued.
One of the key life-saving strategies is the prompt and early management of confirmed cases at the Ebola treatment centres.
Seventeen-year-old Aïcha Ramazani lost her three-month pregnancy to the disease but her life was saved because of the early and prompt treatment she received.
"In November 2018, I was alone at home because my partner travelled. I noticed that I had diarrhoea and I called one of my neighbours for help. She took me to the general reference hospital immediately. At the hospital I was diagnosed with Ebola virus disease and quickly taken to the Ebola treatment centre. There they took care of me and I recovered. I had unintentional abortion while on treatment, but I'm happy that I went to the hospital early and did not depend on self-medication. That decision saved my life," says Aïcha.
"In the case of this young girl, her loved ones had lost hope. They thought she would not survive the disease. As soon as we received the alert, the epidemiological surveillance team investigated and validated the case. We took samples for biomedical analyses and organized her transfer to the treatment centre after confirmation. There she received treatment and was declared Ebola free after some weeks."
"Like Aïcha, many other people have been rescued because of the outreach strategies of the Ebola response coordination team and the early and prompt treatment that we provide," says Sylvie Fasine, an Africa CDC volunteer epidemiologist.
Aïcha has been Ebola-free since she left of the treatment centre and because of the care she received from the nurses at the treatment centre, she hopes to use her savings to further her education as a nurse so she can care for other people in the future.