Overview
Epidemic curve for confirmed and probable cases by date of onset
10th Ebola outbreak, DRC, 2018–2019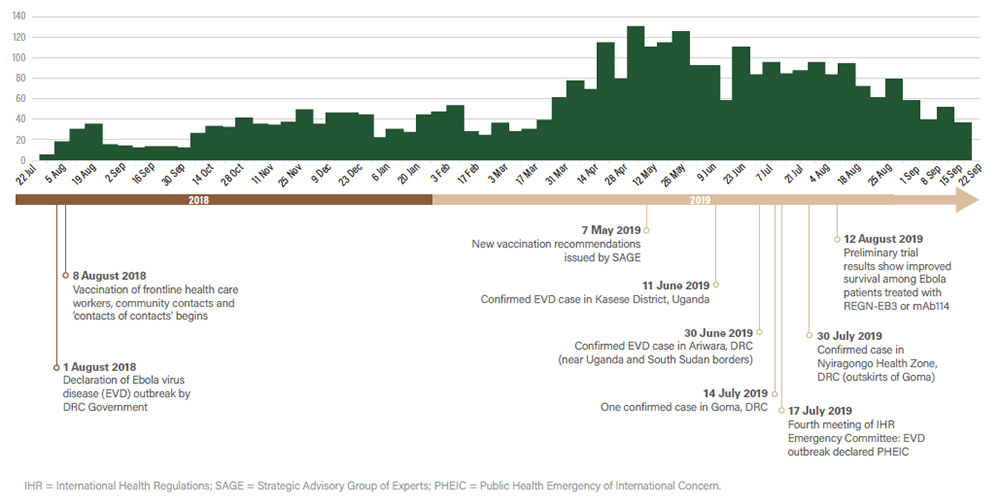 Affected areas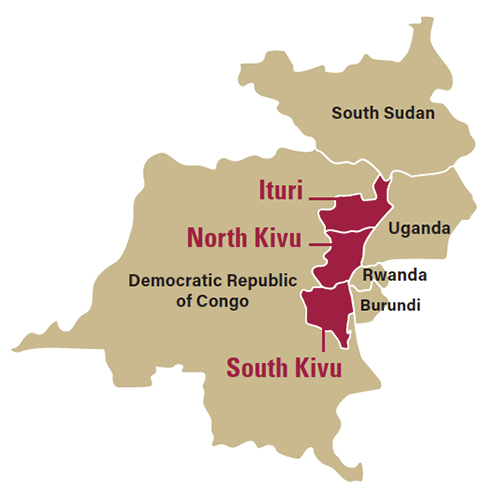 Africa CDC response activities this week
The Regional Collaborating Centres continued to support preparedness in Member States, including sharing information and discussing preparedness plans during the weekly ECHO sessions.
Thirty new volunteers were recruited this past week and will be deployed in the DRC next week.
Africa CDC volunteers and experts supported tracing of 1,825 contacts and investigation of 1,628 alerts, including active case-finding for 824 suspected cases.
Africa CDC teams made 29 visits to health care facilities and trained 105 health care workers in infection prevention and risk communication. They accompanied 52 health care workers to ensure compliance to infection prevention measures.
Africa CDC-supported laboratories received and tested 1,588 samples.
Africa CDC is organizing a meeting of health ministers of DRC and the nine neighbouring countries and partners in Goma on 21 October 2019 in collaboration with WHO. The meeting will discuss the framework for cross-border collaboration on preparedness and response to Ebola Virus Disease outbreak.
Countdown to Africa Against Ebola Forum
21
DAYS TO GO
From 23 to 25 September 2019, Malawi and Zambia held a meeting of their cross-border disease surveillance teams. The meeting was convened by the East Central and Southern Africa Health Community with support from Africa CDC Southern Africa Regional Collaborating Centre and the International Organization for Migration.
This is an opportunity for business owners, philanthropists, corporate and philanthropic organizations, donor agencies, Member States, nations, associations, groups, and individuals to support the EVD response in the DRC through financial donations. Join us to stop EVD in the DRC and prevent it from spreading to other parts of Africa.
Date: 15 October 2019
Venue: African Union Commission Headquarters, Addis Ababa, Ethiopia
Website: https://au.int/en/africa
Stories of Hope
"Rapid care at the treatment centre saved my life."
Mwamini Kahindo, a nurse at the Vutsundu Health Centre, Butembo, was on duty on 27 August 2018 when a patient presented with symptoms similar to those of malaria and typhoid. After treating her for some days and her condition did not improve, Mwamini and her colleagues decided to transfer the patient to the university clinic. Unfortunately, the lady died a few hours after arriving at the clinic. The clinic immediately alerted the EVD surveillance team which tested and confirmed that she died of EVD.
Mwamini was tested and found to have EVD. Public health officers immediately transferred her to an Ebola treatment unit and offered her contacts vaccination against EVD.
"Dr Willy Beya from Africa CDC came everyday to the health centre to observe me and take my temperature. On 11 September 2018, I started showing symptoms of Ebola – headache, diarrhoea and vomiting. For 16 days I fought against the Ebola virus, thanks to the treatment I received and the advice from Dr Beya," said Mwamini.
On 27 September 2018, Mwamini was declared Ebola-free and discharged from the treatment centre.
"It was a moving moment when the doctors came and told me 'Mrs Kahindo, you are cured' and I walked out through the door of the Ebola treatment centre. It was fantastic to have my family, colleagues and friends back."
Being cured of Ebola has totally changed Mwamini's perspective about EVD. She now joins Africa CDC volunteers to educate her community about the reality of EVD and the need to observe personal hygiene and protective measures.
"I am grateful to the Africa CDC surveillance team for facilitating my rapid care at the treatment centre and for their contribution to the response against Ebola in North Kivu," said Mwamini.