Overview
Epidemic curve for confirmed and probable cases by date of onset
10th Ebola outbreak, DRC, 2018–2019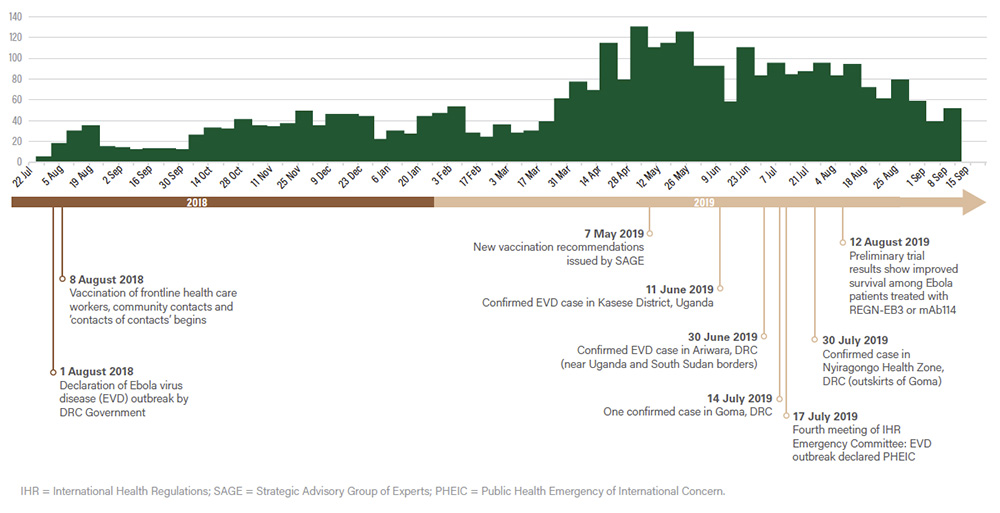 Affected areas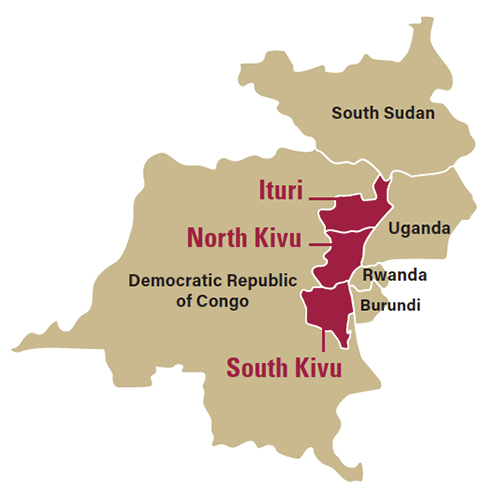 Africa CDC response activities this week
The Regional Collaborating Centres continued to support preparedness in Member States, including sharing information and discussing preparedness plans at the weekly ECHO sessions.
Thirty new volunteers were recruited this past week and will be deployed in the DRC next week.
Africa CDC volunteers and experts supported tracing of 1,579 contacts and investigation of 1,074 alerts, including active case-finding for 657 suspected cases.
Africa CDC teams made 46 visits to health care facilities and trained 141 health care workers in infection prevention and risk communication. They accompanied 67 health care workers.
Africa CDC-supported laboratories received and tested 1,521 samples.
Countdown to Africa Against Ebola Forum
29
DAYS TO GO
This is an opportunity for business owners, philanthropists, corporate and philanthropic organizations, donor agencies, Member States, nations, associations, groups, and individuals to support the EVD response in the DRC through financial donations. Join us to stop EVD in the DRC and prevent it from spreading to other parts of Africa.
Date: 15 October 2019
Venue: African Union Commission Headquarters, Addis Ababa, Ethiopia
Key challenges to EVD response in the DRC

Insecurity
This week, there was an attack on Furahini Health Post, Vulamba Health Area, Butembo. Medicines were destroyed but no personnel were injured.

Community mistrust and resistance

Shortage of responders and medical supplies
What more can Africa CDC do?
Deploy more experts to support response and preparedness in the DRC and neighbouring countries.
Provide more medical and diagnostic equipment, including mobile laboratories and personal protective equipment.
Strengthen public health emergency operations centres in the DRC and neighbouring countries.
Support training of more experts and volunteer community workers in the DRC and other countries in Africa.
Strengthen public awareness and social mobilization for the prevention and control of EVD in Africa.