Overview
Epidemic curve for confirmed and probable cases by date of onset
10th Ebola outbreak, DRC, 2018–2019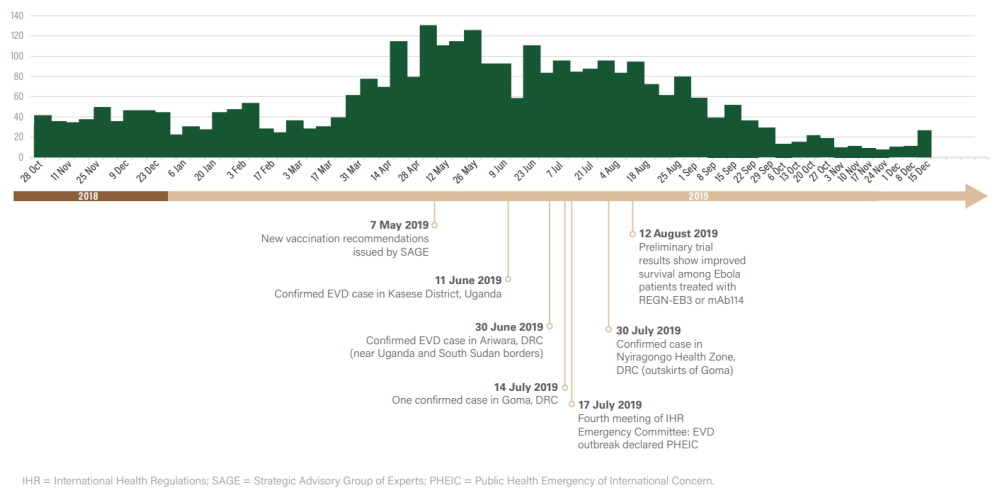 Affected areas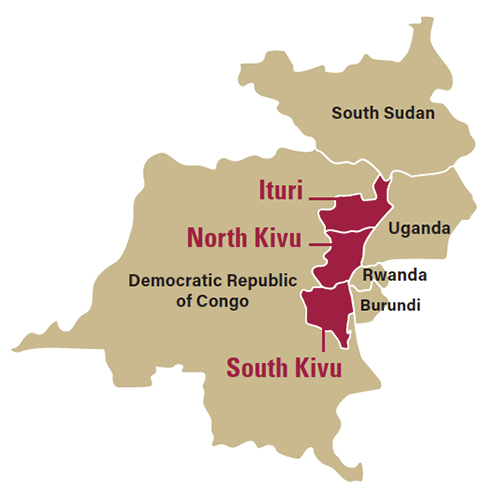 Africa CDC response activities this week
The Regional Collaborating Centres continued to share information and discuss preparedness with Member States using the ECHO platform.
Africa CDC experts supported tracing of 140 contacts and investigation of 2653 alerts, including active case-finding for 517 suspected cases.
Africa CDC teams made 79 visits to health care facilities and trained 197 health care workers in infection prevention and risk communication. They evaluated 10 health care facilities and accompanied 178 health care workers to ensure compliance with infection prevention measures.
Africa CDC-supported laboratories in Butembo, Bunia, Komanda, Bukavu, and Goma received and tested 2086 samples.
Africa CDC experts have not yet returned to Beni, but they continued to provide support remotely from Goma this week.
Update from Member States
Malawi conducted training workshops on EVD preparedness for frontline health care workers and responders.
Zambia reviewed their PHEOC documents and trained its staff on the operation of the PHEOCs.
Zimbabwe conducted a tabletop exercise and held a workshop to review its PHEOC documents.
Botswana established a health data collaborative aimed to harmonize public health information and monitoring and evaluation systems in the country.
Kingdom of Lesotho conducted orientation on the International Health Regulations (IHR) for its national IHR focal persons.
South Africa conducted a training on the operation of the public health emergency operations centres (PHEOCs) for its PHEOC staff.