Overview
Epidemic curve for confirmed and probable cases by date of onset
10th Ebola outbreak, DRC, 2018–2019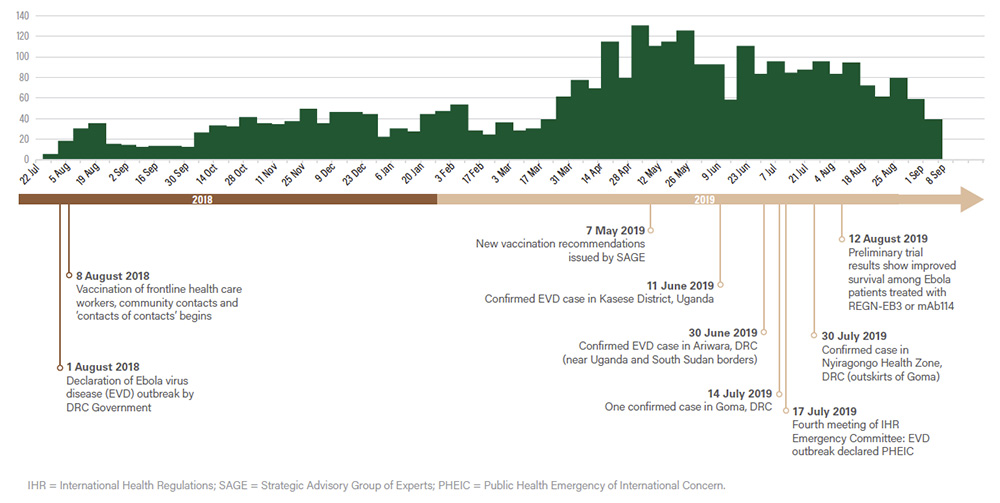 Affected areas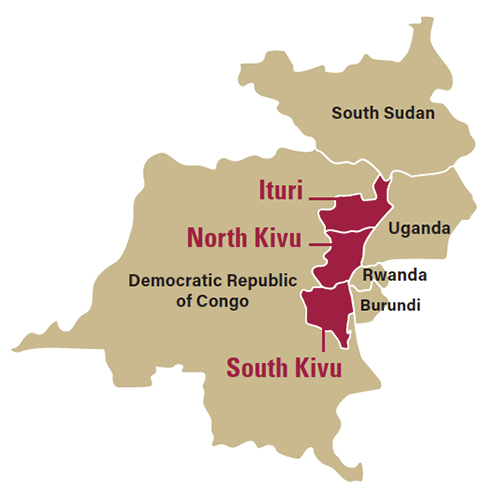 Africa CDC response activities this week
The Regional Collaborating Centres continued to support preparedness in Member States, including sharing information and discussing preparedness plans at the weekly ECHO sessions.
A team of African Union and Africa CDC staff conducted orientation for 10 new volunteers this week in Goma and moved to Kinshasa to interview and select more candidates for deployment to EVD affected areas in DRC.
Africa CDC volunteers and experts supported tracing of 1,634 contacts and investigation of 785 alerts, including active case-finding for 441 suspected cases.
Africa CDC teams made 48 visits to health care facilities, evaluated 7 health care facilities, and trained 112 health care workers in infection prevention and risk communication. They accompanied 64 health care workers.
Africa CDC-supported laboratories received and tested 1,442 samples.
Update from Member States
Malawi
Malawi will receive 840 soldiers who were on peace keeping mission in DRC next week. To monitor soldiers for EVD, Malawi has trained 190 personnel from the Malawi Defense Force on EVD prevention, surveillance, contact tracing, referral, donning and doffing of personal protective equipment, basic case management, and psychosocial support. The trainees will be responsible for daily screening of soldiers for 21 days after arrival into Malawi. Malawi will also train 500 healthcare workers, 20 port health officers and 90 border workers on various aspects of EVD preparedness and response. It is producing information materials on EVD for the public.
Zimbabwe
Zimbabwe is planning an Integrated Disease Surveillance and Response System training for 300 healthcare workers in September focusing on EVD, cholera and typhoid. It is reviewing its EVD preparedness and response plans with support from WHO and UNICEF. Zimbabwe has developed standard operating procedures, including Ebola procedures, for port health workers. It, however, needs to procure thermo detectors to replace the handheld temperature detectors currently in use at the airports.
Zambia
Zambia continues to hold inter-ministerial coordination meetings every two weeks to discuss national preparedness plans. It conducted a rapid assessment at points of entry near the DRC borders, i.e. North Western, Copperbelt, Northern, and Luapula provinces. Zambia has trained rapid response teams in districts considered as high-risk and is planning to conduct simulation and tabletop exercises and Integrated Disease Surveillance and Response System training in the coming weeks. The Ministry of Communication recently offered free airtime on government-owned television and radio stations to broadcast prevention messages on EVD, and the Ministry of Religious Affairs is supporting the communication of EVD prevention messages in places of worship throughout the country.
Key challenges to EVD response in the DRC

Insecurity
In the past year there have been:
176 attacks on health facilities
51 injuries of personnel
5 fatalities (due to attacks)

Community mistrust and resistance

Shortage of responders and medical supplies
What more can Africa CDC do?
Deploy more experts to support response and preparedness in the DRC and neighbouring countries.
Provide more medical and diagnostic equipment, including mobile laboratories and personal protective equipment.
Strengthen public health emergency operations centres in the DRC and neighbouring countries.
Support training of more experts and volunteer community workers in the DRC and other countries in Africa.
Strengthen public awareness and social mobilization for the prevention and control of EVD in Africa.