Overview
Epidemic curve for confirmed and probable cases by date of onset
10th Ebola outbreak, DRC, 2018–2019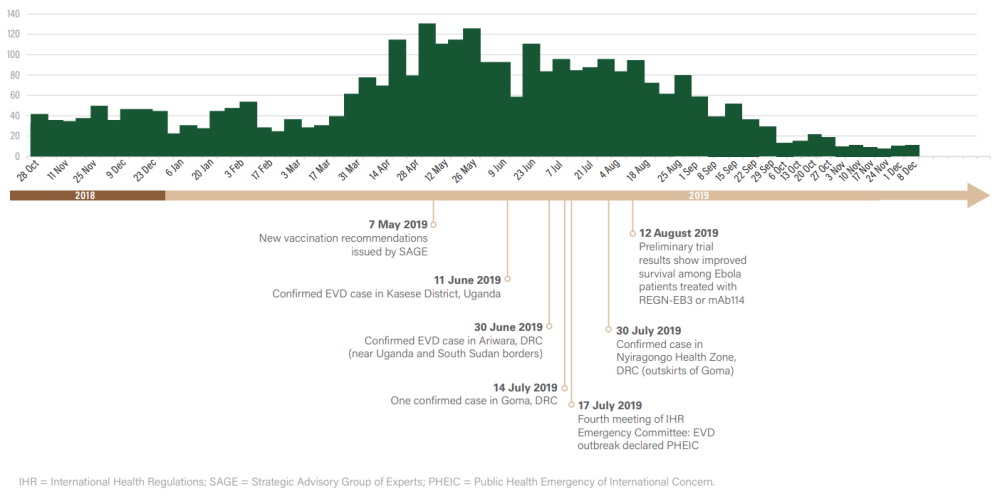 Affected areas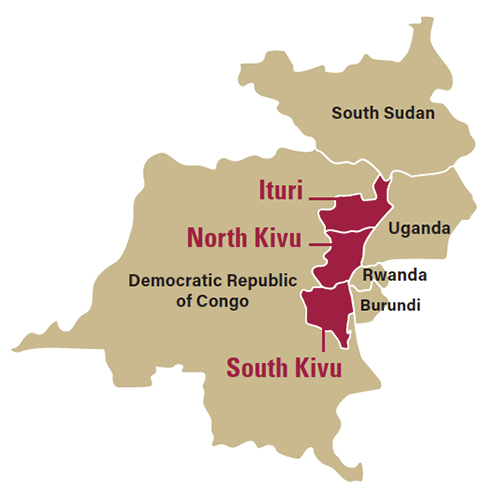 Africa CDC response activities this week
The Regional Collaborating Centres continued to support preparedness in Member States, including sharing information and discussing preparedness plans during the weekly ECHO sessions.
Africa CDC volunteers and experts supported tracing of 831 contacts and investigation of 1678 alerts, including active case-finding for 353 suspected cases.
Africa CDC teams made 39 visits to health care facilities and trained 54 health care workers in infection prevention and risk communication. They evaluated 16 health care facilities and accompanied 65 health care workers to ensure compliance with infection prevention measures.
Africa CDC-supported laboratories in Butembo, Bunia, Komanda, Bukavu, Mambasa, and Goma received and tested 1692 samples.
Response activities remained suspended during the week in Beni.
The African Union hosted the Africa Against Ebola Forum on Monday, 2 December 2019, to raise funds for the Ebola outbreak response. Pledges were obtained from some participating agencies and partners.
Update from Member States
Seventeen African countries participate in public health emergency simulation exercise
Seventeen African countries participated in a simulation exercise on 4 and 5 December 2019, which tested the capacity and readiness of their public health emergency operations centres (PHEOCs) to respond promptly and effectively to a sudden disease outbreak. The participating countries included Burundi, Cameroon, Côte d'Ivoire, Ethiopia, Gambia, Guinea, Kenya, Liberia, Nigeria, Senegal, Sierra Leone, South Sudan, Tanzania, Togo, Uganda, Zambia, and Zimbabwe.
The exercise was jointly organized by Africa CDC, WHO Africa Regional Office, West Africa Health Organization, and US CDC. It was coordinated by WHO from its regional headquarters in Brazzaville.
The exercise consisted of a fictitious outbreak of a deadly communicable disease in a supposed African country, which required an emergency response, including activation of the PHEOCs.
Although there was no actual deployment of human, financial and material resources, the participating countries designed and carried out a pseudo-implementation of a rapid response strategy for the outbreak using the available tools and technologies.
Africa CDC used the exercise as an opportunity to test the connection between its EOC and those of the participating countries, and to identify gaps in emergency response within the continent.
Following the exercise, there was a debriefing session to evaluate and discuss the readiness and capabilities of each country's PHEOC. Areas of focus for the evaluation included the existence of a legal authority to operate the PHEOC, familiarity with and ability of PHEOC staff to use the available technologies, linkages between the PHEOCs and the national emergency management authorities, and communication and information-sharing between the PHEOCs.
Each country is expected to take actions targeted at address areas of weakness in their response capabilities with support from Africa CDC and the other partners.